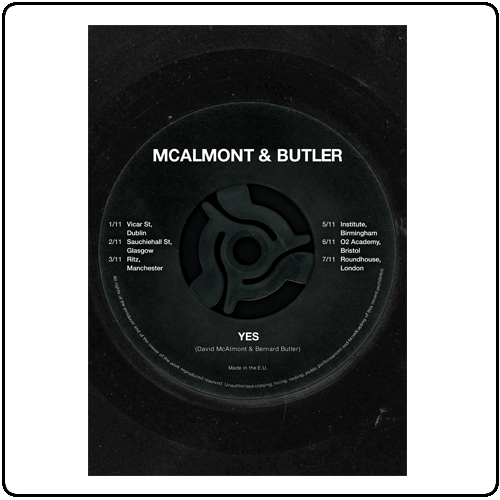 "If the last word I hear from you is goodbye...."
On tonight's performance I hope for anything that this will not be the last time.

My second M&B concert in a week, was at the opening night at Vicar Street, Dublin whose under attended sedateness (seriously, people) despite the band's full on commitment was in direct contrast to tonight's celebration in Camden Town.

'Although' - this was simply majestic, took on a real power and poignancy with David wringing out all the emotion whilst holding onto notes seemingly forever. Matched by Bernard's aching guitar, both sweet and sad.

'Disappointment' - oh that point where Makoto Sakamoto's gunfire drums, Bernard's riffs and David's voice meld into one unstoppably thrilling pop moment.

'Blue' - Mr Butler sits on the lip of the stage playing some delicate acoustic runs while David croons making this venue suddenly seem so intimate. The show was perfectly judged moving from moments of noise and exuberance to stillness.

Similarly their version on 'You'll Lose A Good Thing' which was a highlight of last year's Islington Union Chapel was equally breath-taking this time around. Silencing the Saturday night crowd, who wanted to hear every note and expression is not easy at the Roundhouse but it was a joy to not hear the spell broken.

There is this idea that, perhaps due to the hit singles than M&B are all about the stings and anthems but this would sell them very short. 'The Debitor' was a great bit of Zep glam stopping tonight with backing singers Michelle Stodart & Angela Gannon gleefully joining David to power on the wig-out coda.

Having said that the string section played an absolute blinder, giving it the full John Barry effect during the, inevitably, closing, 'Yes' which the audience roared back at the stage and sung on the way down the stairs after the show. Pushing the space love song 'Falling' to the highest of heights - I 'm not ashamed it left me tearful and breathless.
I hope they can take this wave of support and goodwill towards them, their superb band and this tour and make that third album. Dangling the great last gasp of 'Speed' and melancholy sweet 'Goodbye' before us is too cruel to leave unfulfilled but I'll take the smiles created tonight to keep me company